What is Live Chat?
Customer expectations are high, especially when it comes to service levels.
INSTANT COMMUNICATION
Live Chat opens the door for instant communication between online customers and your team. Granting them easy access to your agents eliminates the need for lengthy email threads and interminable hold times when phoning for help.
FAST-TRACK CUSTOMER QUERIES
All customer service staff know that the longer it takes to resolve a query, the less forgiving the customer is – fast-tracking questions for speedy resolutions prevents unnecessary problems.
BENEFICIAL CONVERSATION RECORDS
Live Chat comes with a built-in paper trail, recording all conversations for the benefit of both parties. It also offers clear and unambiguous communication as opposed to enduring a crackling phone line or a softly spoken customer.
CHANNEL-FRIENDLY
Today, communication and messaging are best handled as part of an integrated solution, which is why Cellfind developed Flow Builder that integrates seamlessly with Live Chat.
Live Chat is available on multiple channels such as through your website, mobile, or WhatsApp.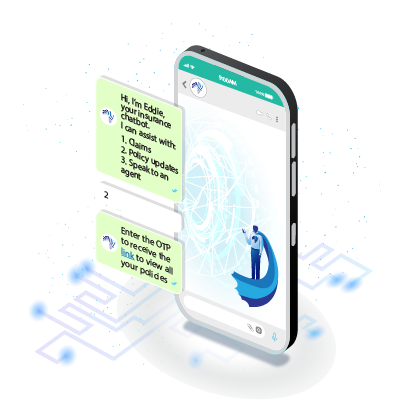 Meet [Your Chatbot's Name]
Chatbots can be automated to answer simple questions, or offer standard responses to common questions or requests in a self-help manner. Alternatively, they can direct the user to the correct department which speeds up the resolution process while freeing up customer service agents to manage more complex queries.
There should be an app or service that comes and packs your bag for you so you don't have to do it. A real-life Siri.
~ Alia Bhatt
Live Chat boosts your customer service experience
Our Live Chat systems:
Can be integrated into existing CRM systems for continuity
Improve the overall experience for customers, especially if they don't enjoy calling directly
Offer 24/7/365 interaction with online users in a convenient way
Reduce the communication overhead for all parties
Can be pre-programmed to respond to FAQs
Offer quick and low-cost adoption for businesses
Contact Our Team