What is NI USSD?
Network Initiated Unstructured Supplementary Service Data (NI USSD) is an instant message sent from a network to a mobile device. It offers a simple solution with access to all four South African mobile networks with Cellfind NI USSD (MT USSD or Push USSD). USSD integration can be achieved in several ways by companies, from integrating it directly into their processes to migrating to NI USSD.
START THE COMMUNICATION
Through this, customers can improve their customer engagement cycle by getting in touch with their target audience. Previously, notifications were one-way, but now end-users can respond with confirmations or other responses.
COST-EFFECTIVE PLATFORM
The best part is how cost-effective the NI USSD platform is. For you to remain relevant to your clients, this is your way into their world – how they think and operate, what their preferences are, and why.
PUSH, NUDGE, NOTIFY
With the full cooperation of those to whom you initiate communication, you have all the say. Yes, it's invitational in nature, but you can also give helpful information, reminders, and 'push' incentives to your valued customers. These include customer surveys and polls, competition entries, balance enquiries, or account application responses.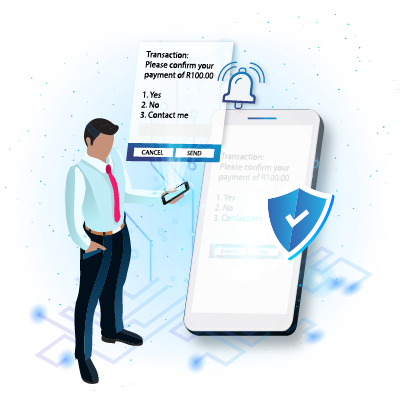 What NI USSD Looks Like
NI USSD allows a company to initiate the session and send the first message to which the user can respond. The recipient is not charged for the session.
Your financial service provider is likely already using NI USSD for you, such as:
Website logins
Internet banking
Call centre authentication
Debit and credit card protection
Push Notifications
If there's one thing that resonates with mobile users more than a well-timed push notification, it's a creative one. Copy is important in all messaging channels, and the best mobile teams stretch their creative muscles to fit engaging content into the limited space of a push message.
~ Stefan Bhagwandin; Leanplum.com
NI USSD puts you in the driving seat
The benefits of NI USSD will have customers eating out of your hand:
USSD is available on all South African networks and handsets
Easily integrate Developer APIs
A multitude of applications for any financial business
This service does not charge end users
You can use NI USSD for a number of tasks, such as authentication for call centre operators, online banking, website security, and credit card security.
Contact Our Team