What are Short Codes?
Short codes are numbers, usually just five digits, used by businesses to communicate with customers via mobile. Because SMS and MMS have such a high open-rate, businesses using short codes benefit from enhanced customer engagement.
PROMOTIONAL MESSAGING
Users can opt-in to promotional messaging from businesses via short codes, creating a user-friendly and compliant communication platform.
TRANSACTIONAL MESSAGING
Transactional messages can be securely sent without an opt-in.
CUSTOMER CARE
Short codes open a simple two-way communication channel between business and consumer to nurture relationships, solve problems, and promote products. Integrate short codes to your CRM system to grow and retain your database of customers.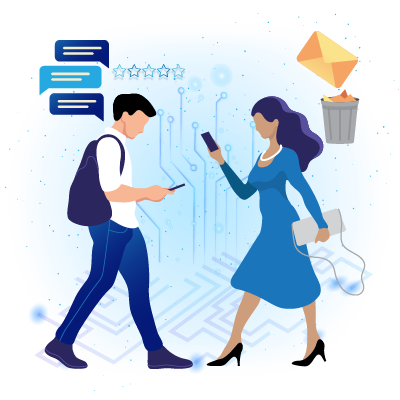 Text Messages vs. Emails
Stats show that 90% of text messages are opened and customers are eight times more likely to respond to native mobile messages than to emails.
Short codes can improve your customer engagement – a win for any business
Working with us offers a host of benefits:
Securely send password resets, OTPs, or use for two-factor authentication
Reliable delivery of order confirmations or tracking numbers
Short numbers are easy to remember and use
Engage your customers with instant responses to menu queries
Use short codes for marketing, tracking, promotions, surveys, and more
Contact Our Team