What is Great Customer Service?
You'll notice we said "great" customer service, not just "good."
Look around you; there's no doubt that the scramble for customers is at an all-time high.
Your competition is not just the store around the corner, but likely a conglomerate in
China or New Mexico that can do what you do for less.
In order to see another financial year, you must ensure that your customers
are not just happy but thrilled with your service.
Great customer service means
Valuing their time and their opinion
Being available and able to answer their questions
Being pleasant and approachable, and
being knowledgeable about your product or service.
Those are the bare bones. There's more to it.
DID YOU KNOW

According to a study from Forbes, companies across the US are losing a staggering $62 billion per year due to poor customer service. This is because one bad experience can have a far greater knock-on effect than one good experience. (Source)
Retain Your Customers
Product Toolkit
5 Simple Ways to Boost Customer Service and Retain Customers
"People do not care how much you know until they know how much you care." – Teddy Roosevelt
Smart businesspeople will constantly be on the lookout for ways to enhance
Their customer service
Increase client retention
Create a stable business income
However, in too many instances this is easier said than done.
The fact is…..
It's not up to a single customer service representative to give good service;
It's the responsibility of the entire organisation.
It's not enough to meet client expectations:
You need to exceed them.
We've curated some of the most useful and practical methods available to help you lift your customer service to new heights.
Sitting comfortably? Let's dive in.
1. Positive, Helpful Language
A thousand miles of copper cable won't disguise a bad attitude
We've all had the misfortune of speaking with a customer care agent who clearly hates their job, and you, and everything else in the world.
"Gosh, that company is rubbish."
Customers leave unpleasant interactions without considering that Lesley on the other side is having a bad day.
Most of our dealings with customers are not face-to-face
This means we need to pay particular attention to our tone, our choice of words, and our overall attitude.
Our customers don't actually want to talk to us
They want to buy their stuff and have things work seamlessly. If they must interact with our company, make it the most pleasant conversation they'll have all day.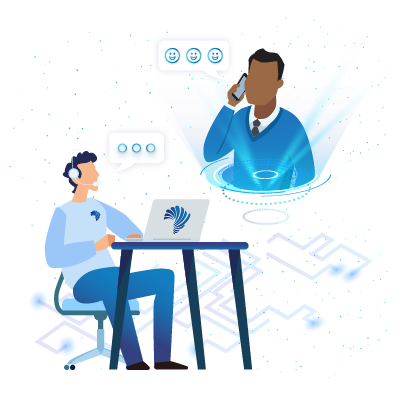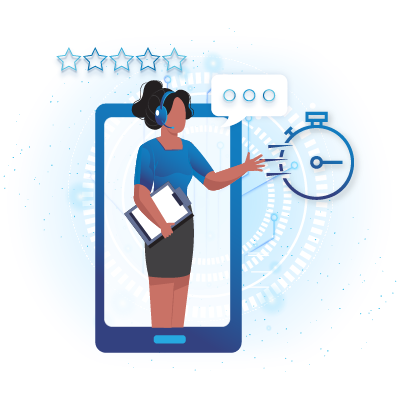 2. Value Their Time
Speedy online communication is key
When your customers have a query, or worse, a complaint, then speed is of the essence. Long call centre queues or unresponsive online chats are a sure-fire way to create a feisty and unhappy customer.
Assist your team
A good CRM tool is an essential platform for excellent customer service and grants your team the client information that they need at the touch of a button.
Customer communication tools
Surprisingly, some 80% of customers will attempt to solve their query themselves using the tools available to them before talking to a customer service agent.
A brilliant business tool is a USSD service.
USSD gives your customer a super-fast two-way communication from any mobile phone with a GSM connection. This highly interactive and customisable service offers anytime/anywhere/any phone communication minus the need for data, Wi-fi, or a SIM.
DID YOU KNOW

73% say that valuing their time is the most important thing a company can do to provide them with good online customer service. (Source)
3.    Personalised Service
Chatbot vs Human
Millennials may be happiest talking to a chatbot or sending an email, but many of our customers still want to talk to a person. They want to know that their query is being handled correctly.
Take your service to the next level
By putting your customers before both profit and procedure, and treating them as the valuable humans that they are, will produce loyal fans.
Hear what your customer is saying
Take the time to listen and fully comprehend what has not been said, recognise their emotional state and use phrases such as "Let me make sure I understand…" to best solve their problem.
Follow up
Yes, you may have solved the customer's problem, but a follow-up message to confirm that they are happy – even an automated one – will add another layer of awesome to your service.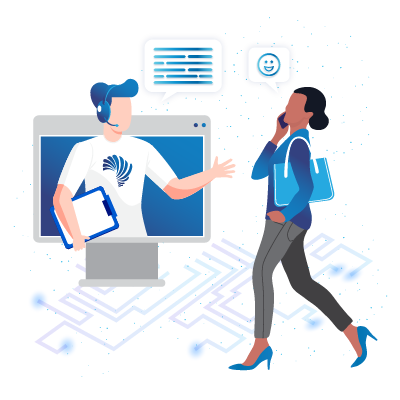 DID YOU KNOW

80% of customers are more likely to purchase a product or service from a brand that provides personalized experiences. (Source)
4. Secure Service
With so much of our communication taking place online our customers have the right to feel secure in their interactions with us.
Our service needs to be methodical and thoughtful, ensuring all the necessary checks and balances are in place to satisfy personal data regulations.
This is one area where we can go the extra mile to care for our client's personal information, without creating friction within any of our processes.
NI USSD
Dealing with highly sensitive personal information the financial sector makes use of systems such as NI USSD (Network Initiated USSD) to maintain critical security for transactions or identity verification on mobile devices.
miDocuments
Other sectors make smart use of secure mobile links sent via encrypted files to send templated personal information such as payslips, statements, or invoices to customers or staff.
Registered SMS
Another option for businesses that require legal proof of the exact time and date a message was sent and received is a registered SMS service. This serves to protect both the company and its customers and is vastly cheaper than registered mail.
With cost-effective and user-friendly services so readily available, your business doesn't need to be in the sensitive realm of health or finance to offer top-quality security. Your customers will appreciate it, of that you can be certain.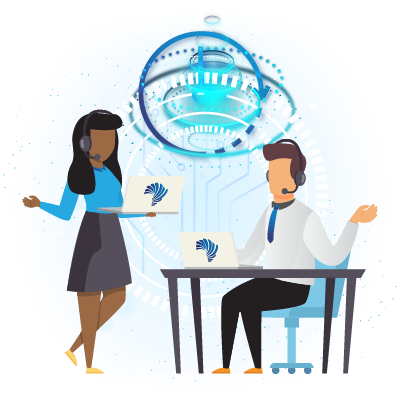 4. Always Available
Be there when your customers need you
We live in such a connected world now that our customers have become more than a little demanding of our time and attention. If we can satisfy this service element by being available when they need us, then we take yet another step into the world of awesome customer service.
Customer Service and Retention Matters
We agree that it's cheaper to keep the customers we have than spending all our money trying to get new ones, right?
How do your customers feel about your business?
Do you have a customer retention strategy in place?
Are your customer engagement stats looking healthy?
We have some of the most affordable and user-friendly products and services to streamline and enhance your customer service.
Please take a moment to discover how we can help you retain and engage your valuable customers.